The Education room is a multifunctional room with plentiful natural light that can be arranged in various layouts for meetings and events to suit your needs. It is a suitable option for education sessions and seminars, with AV equipment and dimmable lighting, it can seat 26 in a classroom style.
The Auditorium's tiered seating configuration seats 126 people and boasts elegant Italian award-winning seating by LAMM, giving a sense of both comfort and luxury. The space is filled with natural light, creating an inviting and cosy learning environment. This space can be used for events ranging from lectures to social events
The first floor fine dining room is a private, elegant space, occupying a high-ceilinged room with a view of our courtyard from the bay window. This space can seat up to 12 people. It is a popular choice for boardroom style meetings and for dining.
This is a multifunctional room that can be used for meetings and events. It can be arranged with specific beverage points and has capacity to support a range of catering needs.
This stunning, private room is exquisitely decorated with elegant antique furniture and accommodates small groups in relaxed surroundings. It features a bay window and has retained its original fireplace. This room is located on the first floor overlooking the beautiful entrance and grounds of the building.
The Lecture room is a large and elegant space filled with natural light. It has the space and flexibility to be adapted to many layouts. It includes a HD projector and screen and dimmable lighting. A popular choice for boardroom style meetings and for education sessions and seminars.
The foyer is the ideal setting for a small welcome reception, with classic chequerboard floor tiles, marble pillars, granite staircase and complete with a baby grand piano.
The banqueting room is designed to be both practical and elegant, with its high ceiling and added feature lights. The space is noted for its flexibility and can seat up to 100 people depending on the style. It can be used for social gatherings and includes a HD projector and screen, meaning it has the flexibility to become an education space also.
Our conference rooms are filled with natural light and can accommodate up to 10 people in boardroom style. They include AV equipment, meaning they are the perfect space for small meetings.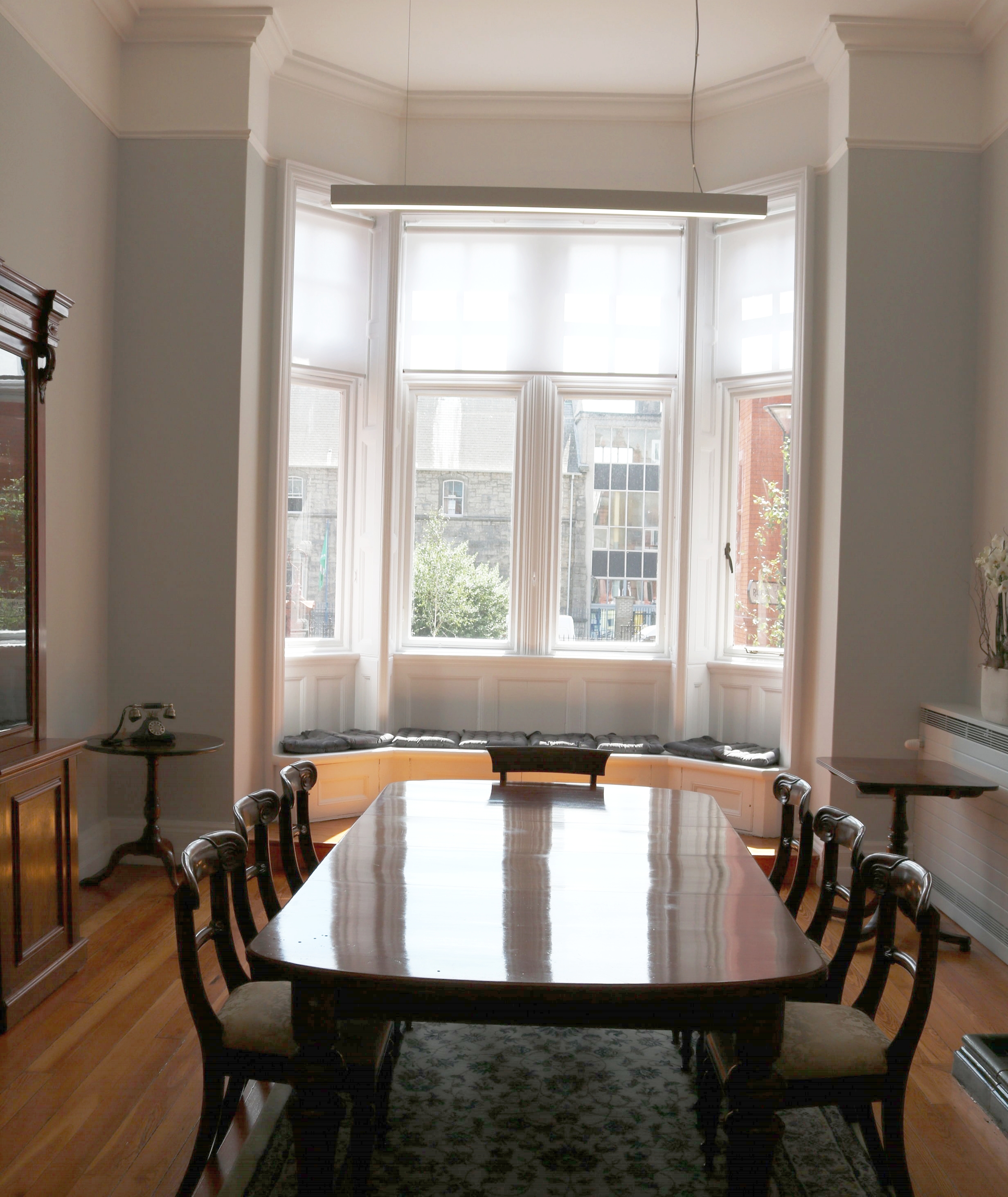 The drawing room boasts original wooden floors and fireplace as well as antique furniture providing a comfortable space for small meetings. A bay window provides a stunning view of our carefully manicured gardens and round courtyard, the focus is which is an elegant fountain.
The Writers Room is suitable for small meetings, with seating for up to 6 people. The décor is inspired by some of Ireland's literary greats, with pencil drawings of well-known Irish writers including some of their most famous quotations. The room sits under watchful eye of Bram Stoker, whose brother, William Thornley Stoker, was a surgeon in The Richmond in the early 1900s when it was a hospital. The Richmond has a number of links with literature which are acknowledged by this room.